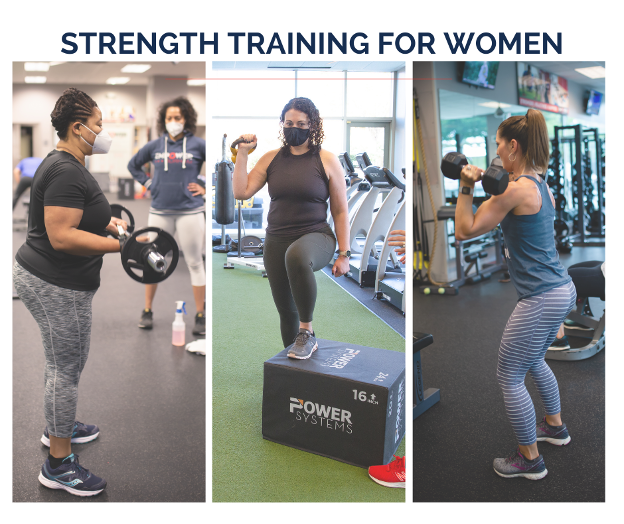 Today and every day we are focusing on Women's Health…
More specifically we are highlighting why it is so important for women to resistance train. There are countless reasons why strength training is beneficial for women but here are a few upsides. And, why Empower provides personal trainers for women.

1. Increased Metabolism!
Your Resting Metabolic Rate (RMR) is basically how many calories you burn while you are at rest, or an easy way to think about it is how many calories you would burn if you laid in bed all day and did absolutely nothing. Now everyone's RMR is different based on a few factors: Gender, height, weight, age, muscle mass, just to name a few. A big one that is in your control though is your muscle mass! You could be burning less calories at rest than someone who weighs exactly the same as you but they are practicing resistance training and therefore gaining and maintaining lean muscle mass. While cardio is very appealing because when you get done with a bike ride, run, or long walk and you might see a higher calorie burn at the end of a workout than your typical strength training session. However, the muscle you are building during those strength training session will increase your muscle mass and your overall calorie burn towards the end of the day will be much higher over time than strictly doing cardio.

2. Increased Bone Density!
While the obvious and most apparent benefit of resistance training is muscle gain, you are also increasing your bone density. Resistance training puts stress on your bones which increases the overall bone density. Osteoporosis is a huge threat for women, especially menopausal women. The hormonal change that women go through during menopause puts them at a greater risk for osteopenia and osteoporosis.

3. Maintaining your Independence!
Balance is something that everyone struggles with time to time. What happens if you fall and can't get up on your own? You don't want to lose your independence. Most of the time people think of balance as being able to stand on one foot without falling over. While that is one example of balance, there is so much more to it than that. Balance allows us to do so much – walk on uneven surfaces, walk in the dark without falling, be able to walk in the grocery store and scan the shelfs and walk without having to look down at our feet.
It has such an impact on our life that we don't even realize we are going it. As we age our balance has a natural decline, doing balance exercises and core exercises can help slow down that part of the aging process and even help prevent falls as you get older. What if you do end up falling? Can you get up on your own? Do you have the strength to get up without help from an object or another person? The answer may be no, which is scary. Resistance training can help give you the strength you need to get yourself back up after a fall where you find you are by yourself.

4. Increased Hormonal Response
As we age and go through life stages such as menopause, it is natural for the anabolic hormones in our body to decrease in function which can accelerate the lost of muscle mass and bone density. However, it is well known that an acute bout of exercise can stimulate an increase in anabolic hormone response. Studies in both Cardio and Resistance Training have shown to increase levels in Estradiol, Prolactin, Testosterone, Thyroid and many other anabolic hormones. Estradiol (the precursor to estrogen) and Prolactin (hormone for milk production and lactation) are both key to the development of women across all ages.

5. Prenatal/Postnatal Exercise Response
Regular exercise has been shown to have important health benefits after childbirth. A few published studies suggest that postpartum exercise improves aerobic capacity, high-density lipoprotein cholesterol levels, and insulin sensitivity. In prenatal and lactating women further studies have shown that there are no adverse effects to regular exercise.

These a 5 great reasons to start (or increase) a strength training program, and there are more including weight loss (but we didn't want that one to steal the show). 😉
Want to get started today? Try this Trip-Set Strength Training Workout:
Interested in working with an Empower Personal Trainer?