Performance Training for
Youth Athletes
Designed specifically for developing children and adolescents by Dr. Christopher Bruscato.
Challenging  •  Fun  •  Effective
Youth Athlete Training Program is underway. Limited spots still available. Enroll today!
Empower offers age-appropriate exercise programs for youth of all ages including elementary, middle, and high-school. Our program is directed by Dr. Christopher Bruscato and is based on the most up-to-date scientific research and focuses on improving the coordination, strength, and flexibility of developing children.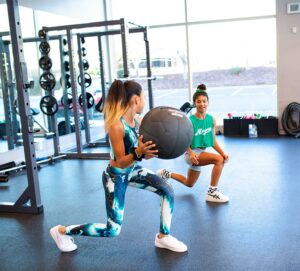 Your kid enjoys playing sports, but . . .
They have struggled with pain or injuries that sideline them from the sport they love
You worry they will suffer a severe injury such as an ACL tear
They need to increase their strength, mobility and coordination to improve performance
You worry they are specializing too early and they will benefit from cross-training
Or, your kid would like to play sports but . . .
They lack the confidence to try out
You are concerned they might get hurt
They worry it will be too hard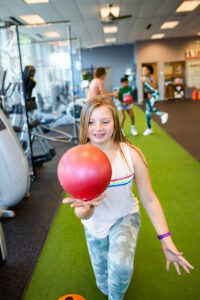 Empower's Performance Development for Youth Athletes is unique:
Our program fosters a supportive learning environment that provides an appropriate balance between challenge and fun, which helps young athletes develop robust levels of athleticism, reduce the risk of injury, and enhance their health and well-being.
The Path to Better Athletic Performance
Sign Up for Initial Evaluation
Get assigned to an appropriate training group
Begin training with our expert coaches
Stay informed with evaluations and monitoring
Frequently Asked Questions
Is this program expensive?
While there is an investment to work with highly educated and experienced expert performance coaches, athletic development training is key to safe and effective sports performance and progress. You will never regret spending time or money on your kid's health.
What if my child is already playing sports?
Great! Our programs help increase athletic performance and reduce injuries!
What if my child already does performance training?
Our program is different than almost anything else out there. It was developed by Dr. Christopher Bruscato specifically for developing children and adolescents – and it is run by Cierra Dunston, a sports fitness specialist whose expertise is in training youth athletes.
What if I have more questions before committing?
Great! We would love to talk to you in more detail about the program and if it would be a good fit for your child. Please just submit the Schedule Your Evaluation form. Cierra will call you and gladly answer any questions you have.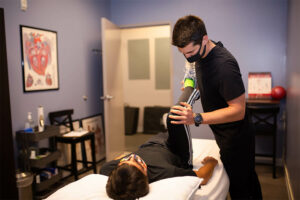 Sign Up for Initial Evaluation
Maturational age
Flexibility
Balance
Movement competency
Strength
Assign to Training Group
Based on the findings from your child's evaluation we will place them into the appropriate training group
Training
Ongoing, Progressive 8-week training block starts Jan 23rd
Choose 1 or 2 times per week (Cost $209/$389)
60 minutes in duration
Reevaluate
Children will be reevaluated every 16 weeks to monitor for changes in development and to make advancements to their exercise programming.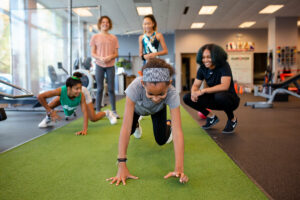 Youth Academy (FUNdementals)
The FUNdementals training group is our foundational training group. This group includes athletes of younger ages and with generally less experience with physical exercise. In the FUNdementals training group we provide a low structured training environment with a focus on improving a wide variety of fundamental movements and development of self-esteem. To do this we utilize a fun environment through the utilization of games, structured play, competition, and positive encouragement. Exercises for these children will focus on coordination, balance, and light resistance training.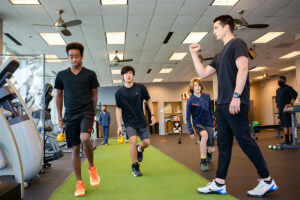 Varsity Performance (Learn to Train)
The Learn to Train group is our intermediate training group. This group usually includes adolescent aged athletes with a moderate level of experience with physical exercise. In the Learn to Train group we provide a moderately structured training environment with a focus on improving both fundamental movements skills, sport specific movement skills, and developing self-worth and confidence. To do this we utilize a combination of both fun and structured activities. Exercises for these adolescents will focus on balance, jumping/landing/running technique, and moderate resistance training with a focus on core strengthening.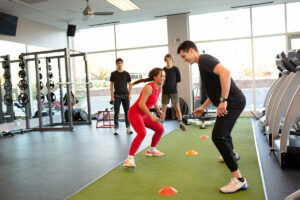 D1 Performance (Train to Perform)
The Learn to Perform group is our advanced training group. This group usually includes teenagers with a high level of experience with physical exercise. In the Train to Perform group, we provide a highly structured training environment with a focus on improving both the movements and psychological skills required for success in sport. To do this we take teens through systematic sport progressions. Exercises sessions for these teens are all-encompassing and include mobility, stability, speed/agility, power, and strength