Drum Roll Please . . .
Something great is returning to Empower, and we are so excited. 
As you know, we made a lot of big decisions throughout the Covid-19 pandemic and one of those decisions was to halt all group training sessions to minimize exposure to people from different households. However, as we emerge from the state of isolation that Covid has caused, we are re-launching our Small Group Training Classes. Yippee!!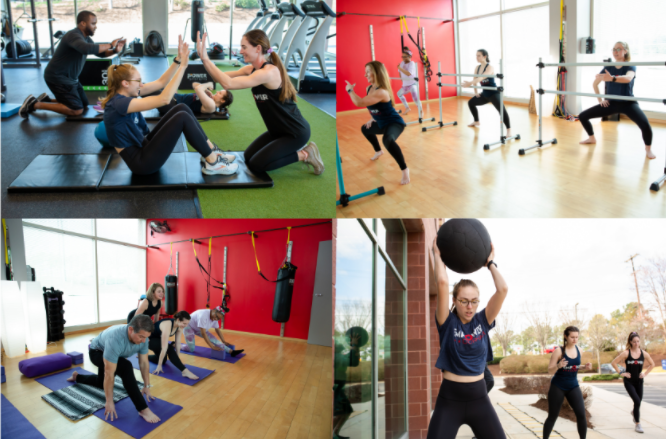 Here's what to love about this:
Small Group Training at Empower differs greatly from your typical group fitness studio class. You are not just another number in a large crowd because we limit our group size to 8 (for indoor sessions). 
Our sessions are led by fully certified, very experienced, expert personal trainers or instructors. The best of the best!
Small Group Training is like personal training but with friends and more affordable. While personal training offers you the ultimate level of personalization, these small group sessions are small enough that the instructor can still help each individual person and with a much lower financial investment.
There is something for everyone with Small Group Sessions like:
Empower Circuit Training
Flow and Restore Yoga
Muscle Gaining Functional Training
Greatest HIIT's
Barre – Yoga Fusion
and MORE . . .
Starting the week of March 21st our new Group Fitness schedule will be in full swing and we offer a couple lunch time classes and several that start at 5:30pm so you can fit it in before heading home for the day.

REGISTER HERE for Small Group Training Classes: First Class is Complimentary!
(remember full class schedule begins 3/21 so scroll to that date to see all classes)
SCHEDULE
Monday
12:30pm- 1:30pm – Empower Circuit Training with Brooke (in studio only)
5:30pm – 6:30pm – Flow and Restore Yoga with RJ (In-Studio and Virtual)
Tuesday
5:30pm – 6:15pm – Muscle Gaining Functional Training with Marques (in studio only)
Wednesday
11:30am – 12:30pm – Empower Circuit Training with Marques (in studio only)
5:30pm – Deep Stretch Yin Yoga with RJ (In-Studio and Virtual)
Thursday
9:00am – 9:45am – JAR Barre – Yoga Fusion with Judy (virtual only)

6:00pm – 6:45pm– Greatest HIIT's Training with Marques (in studio only)
Friday
9:00am – 10am JAR Barre – Yoga Fusion with Judy (in studio only)