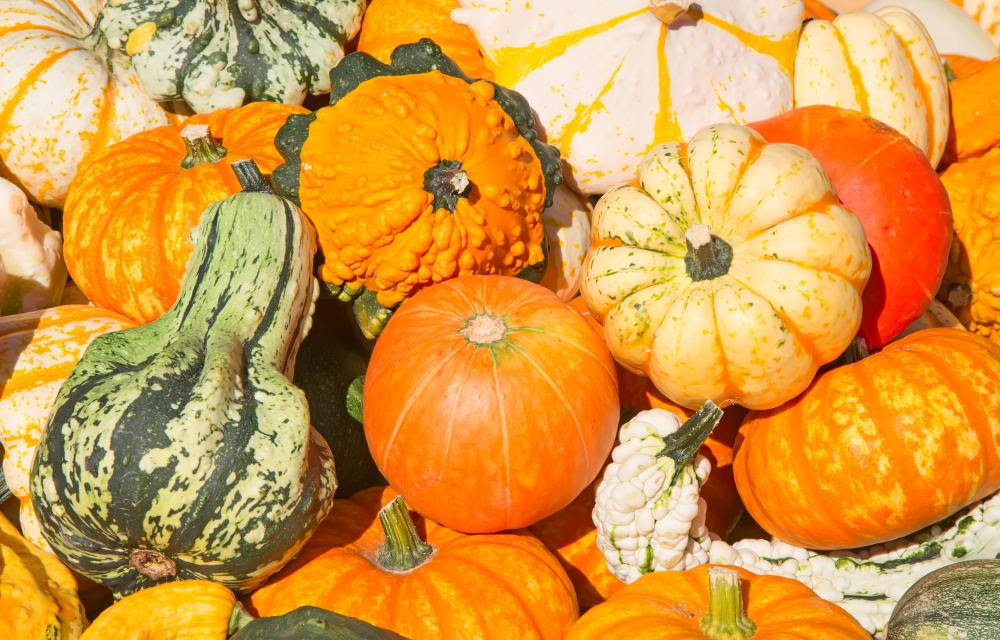 Acorn – dark green/orange, or buff-colored, has a ribbed rind, and contains a moist yellow or orange interior.  This particular variety of squash contains vitamin A, niacin, folate, thiamine, and vitamin B6 but it is especially a high in vitamin C.  Acorn squash is also high in potassium, magnesium, and fiber.  Great for roasting and then using as a "squash bowl."  Check out this recipe from Elana's Pantry for Acorn Squash with Cranberry Apple Stuffing.  You could serve as a side dish or add ground sausage for a complete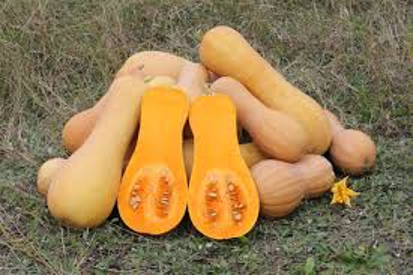 Butternut – probably the most common variety of winter squash.  It has a bell shape with a butterscotch colored skin.  Butternut squash contains the highest doses of vitamins A & C of any other squash.  It also packs potassium, folate, and lots of fiber.  It is easy to peel, cube, and then roast.  Great for roasting and soups.  Check out this recipe from Cooking Light – for a flavor-pack fall salad – Autumn Glow Salad. Or this recipe from easy, vegan, gluten-free and delicious  Crockpot Butternut Soup from Show Me the Yummy – nothing beats a warm bowl of soup on a chilly night.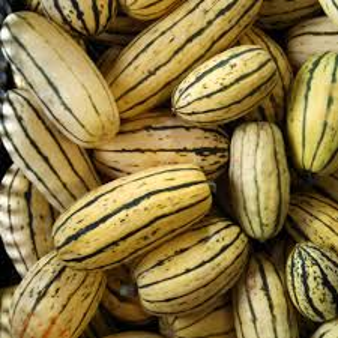 Delicata – also known as sweet potato squash because of its creamy flavor and texture.  This squash resembles a giant, fat cucumber and has a pale yellow skin and dark green pinstripes.  Delicata squash, much like other varieties, is rich in carotenoids and a source of vitamin C, B1, B6, niacin, and potassium.  You can eat the skin and it is great for roasting and stuffing.  My favorite recipe for Delicata squash is from Paleomg, Chicken Bacon Alfredo.  You can also roast delicata squash and then stuff it with shredded meat and/or sautéed veggies.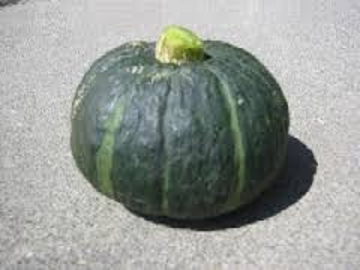 Kabocha – has a subtle, honeyed sweetness and smooth texture.  The exterior is jade green, has light green stripes, and the meat inside is pale orange.  Besides being an excellent source of beta-carotene, Kabochu squash also contains iron, vitamin C, and some B vitamins.  Kabocha squash is drier and denser than other varieties, it can be baked or steamed, or pureed for soups.  I love to roast it and use this recipe from Nom Nom Paleo as a guide, Roasted Kabocha Squash.
Pumpkin – has a bright orange skin and light orange flesh.  Pumpkins have a mellow sweetness and dense flesh perfect for fall baking.  They contain vitamin A & C, B vitamins, potassium, magnesium, iron, calcium, copper, and phosphorous.  To use for baking look for small sugar or New England pie varieties, not the large ones used for decoration and/or carving.  Great to roast or steam, puree, and then add to any recipe that calls for pumpkin. And fall isn't complete without at least 1 pumpkin pie. Here is a great recipe for THE BEST Pumpkin Pie ever from Joy Food Sunshine!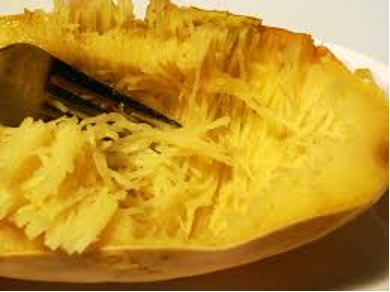 Spaghetti – oval yellow squash contains a stringy flesh that when cooked separates into mild-tasting spaghetti-like strands.  The nutritional benefits of spaghetti squash are that it contains  vitamin A & C, B6, thiamin, riboflavin, niacin, folate, pantothenic acid, vitamin K, manganese, and fiber.  It can be topped with tomato sauce like pasta or flavored with butter and herbs.  Great for roasting.  However, there are so many delicious recipes to try using spaghetti squash. For a kid-friendly twist on everyone's favorite – Pizza, try this Spaghetti Squash Pizza Casserole from Raia's Recipes. 
Well, there you have it – our season of squash round-up. Let us know if you try any of these recipes.

Pro-tip: If you are taking part in Halloween in any way this year, wait until Oct. 30th to buy candy and give it all away by Nov. 1st.

Comfort Food is One Way to Warm-Up Group Training is Another!
YOU DON'T HAVE TO BE A CURRENT CLIENT TO JOIN US FOR THESE SESSIONS!

Group training is perfect for the days you can't find the motivation to make yourself exercise. You get the knowledge, expertise and motivation of an Empower professional AND you get the benefit of working out alongside others in our virtual group sessions.
Our group training workouts are designed just like a personal training session – with the appropriate warm up, attention to detail, and personalization of exercise intensity that you know and love.

If you're struggling with motivation, you are getting a little bored with your workouts or you KNOW you should get more exercise then give group training a TRY!
Here Are Your Options This Week

Virtual Group Training – Pre-register at least 30 minutes before the group training session, and we will send you a Zoom link to join from the comfort of your home or office. Our workouts are creative, efficient and require very little equipment. Choose from Cardio Circuit or Strength Training. Your first session is FREE or use your class card.

In Person Group Training – Join Judy Raby of JARBarre for a one of kind experience –Yoga Fusion to Barre. This class will be held outside Empower and limited to only 5 participants (to maintain appropriate social distance). Kick off your Saturday with a blend of yoga and barre and be on your way to creating a great day. $20/class and pre-registration is required.

On Demand Group Training – Join our private FB group or request access to our private YouTube channel where we provide support, motivation and a suggested workout every single day from our on-demand library of workouts. Only $30/month.