By: Michael Raynor, MS, RD, LDN
As both men and women reach their 40s and beyond, they're faced with changes that
may require them to adjust their nutrition and fueling to ensure they're best supporting their
health as well as any performance goals they may have. This can be difficult for many men and
women because their nutrition and diet choices have been cemented over decades as an adult,
and making these adjustments requires some focus and intentionality. The great news, though,
is that it doesn't have to be difficult. We'll talk about nutrition for changes in aging and adjustments older adults need to make to account for changes as a result of aging, and we'll explore how to easily make those adjustments.

First, as people move through adulthood and cross over into older (aka late) adulthood
(65 years and older), their metabolism slows down meaning they need less calories than when
they were younger. However, older adults still have similar (or even higher) nutrient needs
compared to younger adults. Effectively, this means we have fewer calories to get the same (or
higher) level of vitamins and minerals. As a result, older adults need to focus more heavily on
quality foods like lean proteins, whole grains and other high quality starches, as well as lots of
fruits and vegetables. A good rule of thumb is the to use the Plate Method to help guide how
you portion your food at meals. Using the Plate Method, ¼ of your plate should come from lean
proteins, ¼ of your plate should come from carbs and starches, and ½ of your plate should
come from fruits and/or vegetables. The individual portion sizes will vary based on your needs,
but this gives us a good picture of how we should be balancing and prioritizing different food
groups.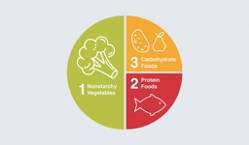 Muscle Mass
In addition to calorie needs decreasing, metabolic changes also mean that muscle mass
tends to decrease into older adulthood. This isn't just a matter of no longer looking "lean",
"ripped", or muscular. Excessive declines in muscle mass also affect functionality and the ability
to perform tasks like cooking, cleaning, bathing, and dressing that are essential to our
independence. As a result, it's important for older adults to ensure they're eating enough protein
to help support their lean mass and minimize the loss of muscle. This is especially important for
active and athletic older adults, as that will place an additional strain on muscle and make it
even more important to ensure they're eating enough protein. Your activity level, body size, and
goals may require a different level of protein intake, but I typically recommend a protein intake of at least 1.2-1.5g of protein per kilogram of body weight for older adults.
Bone Density
In addition to declining muscle mass, older adults are also facing a decline in bone
mineral density. For most people, the peak of bone mass occurs between 25-30 years of age,
and by the age of 40, we begin to slowly lose bone mass. Early on and if we're slowly losing
bone mass, this isn't too much of a concern. However, if we lose bone mass too quickly, the risk
for fractures increases. This could be stress fractures in very active individuals, but it could also
be an increased risk of fractures if we trip and fall. While this is a normal part of the aging
process, the goal is to slow the rate of decline as much as possible by ensuring that you're
getting enough calcium and vitamin D–both of which are very important for our bone health.
Your specific needs may vary, but it's a good idea for men in their 50s and 60s to aim for 1000
mg of calcium each day. On the other hand, peri- and post-menopausal women may want to
increase their daily calcium intake to 1200mg to combat the rapid bone loss associated with
hormonal changes during menopause. For both men and women in their 50s and 60s, it's a
good idea to aim for 1000 IU of Vitamin D each day. At age 70 and above, the recommendations for both men and women are to aim for 1200mg of Calcium each day and 800 IU of Vitamin D each day.
GI Function
A couple of other areas to consider relate to our gastrointestinal function. As adults age
(and often by older adulthood), they begin to produce less stomach acid. Stomach acid is an
important component for us to absorb Vitamin B12 from the foods we eat. As a result of these
changes, older adults should consider asking their doctor to test their Vitamin B12 levels. If you
find out that they're low, you may want to consider supplementing Vitamin B12, but you may be
able to get enough by ensuring you're eating foods rich in Vitamin B12 (such as fish, meat,
poultry, eggs, dairy products, fortified breakfast cereals, and nutritional yeast). Another
important nutrient related to our GI function that's often overlooked is fiber. Decreased fiber
intake can result from lack of appetite or just from not being sure to eat enough. Fiber plays an
important role in GI regularity; in other words, it helps to keep things moving through our
intestines and helps to maintain regular bowel movements. The general recommendation for
older adults is for men to aim for at least 30 grams of fiber per day and for women to aim for at
least 21 grams of fiber per day.
Hydration
Along with adequate (or even increased) fiber intake, it's important to ensure you're
drinking enough water. Without enough water, increasing our fiber intake can stop us up and
make us constipated. However, with adequate hydration, you'll be supporting your health and all
of the important roles of water in the body, but you'll also be helping your intestines to function
properly and keep things moving. This can be difficult for older adults, because for many people
as they age, their thirst sensation (and desire to drink) decreases. However, by being aware of
this and being intentional about drinking enough water, you can be sure you're best supporting
your health. A good general rule of thumb for hydration is to aim to drink half of your body
weight in ounces of water per day. For example, if you weigh 160 pounds, you should aim to
consume at least 80 ounces of water each day. An important note here is that some health
conditions may necessitate a lower fluid intake. If your doctor or another healthcare provider has specifically told you that you need to consume a different or lower amount of fluid, you should defer to their guidance.
Menopause
One of the aging-related topics that I often get asked about is nutrition for menopause,
how menopause changes your needs, or nutrition to help mitigate some of the symptoms of
menopause. For women anywhere in the menopause process (pre-, intra-, or post- menopausal), the recommendations outlined throughout this blog hold true–these things are important to support your health and may help to mitigate some of the unpleasant symptoms of menopause. Some additional items that can also help with unpleasant menopause symptoms may be the inclusion of omega-3 fatty acids (such as from fatty fish like salmon, mackerel, cod, and sardines), limiting alcohol intake, limiting caffeine intake, and avoiding high-sodium and spicy foods.
Not sure how to put all of this into practice? Or have you tried to implement this and are
struggling to put all of the pieces together? Schedule a free call here with our Registered Dietitian, Michael Raynor MS, RD, LDN, to learn about working with him to maximize your health and performance!
By: Michael Raynor, MS, RD, LDN