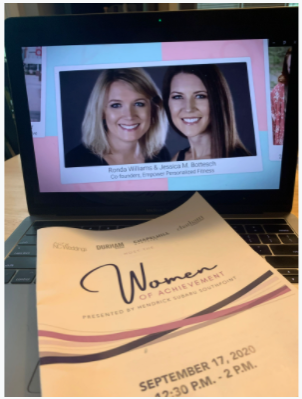 Last Thursday Ronda and I were honored at a virtual luncheon for being two of the 2020 Women Of Achievement award recipients (Check it out here). It was an incredible honor and made us proud to be in the company of so many amazing women business owners, teachers, executives, activist and leaders who are enriching the lives of people in our local community and beyond.

The next day, one of the bravest, most determined and brilliant women of our time passed away – Supreme Court Justice Ruth Bader Ginsburg. As an extraordinary champion for justice and equal rights, RBG paved the way for women like me, Ronda and all the Women of Achievement honorees. She was a consistent, unwavering voice for freedom, opportunity and equality for all and her legacy will touch not only our generation but many generations to come.

As we bid her farewell, we promise to let her legacy live on through our actions, our decisions, our dissent and our leadership. As a small business that focuses on health-promotion, we promise to show up and work toward a stronger, healthier, happier community. We are brainstorming and working on ways in which we can reach more people, because we know that a healthy community only emerges when ALL people have equal access and opportunity. If you have ideas, you would like to share, please let us know by sending us an email.

Next we will be back to delivering you all some healthful content, but this week we give thanks and ground ourselves knowing that we have big footsteps to fill and little footsteps following our lead.