STRESS! Oh my, we all have our share of it. Whether it's work stress, relationship stress, worry about your family or simply stress about current world events, there is plenty to go around, and it can wreak havoc on your health.
We are very aware of how stress affects us mentally–causing anxiety and depression, substance use problems, sleep problems, irritability, lack of motivation and more. However, prolonged stress can also cause physical symptoms like headaches, digestive problems, muscle tension and pain, fatigue and . WEIGHT CHANGES.
While some people experience weight loss when stress strikes, most folks will see their weight increase with prolonged stress. Here is the quick physiological explanation about WHY this happens:
Stress hits.
Our body's fight-or-flight response kicks in (it doesn't matter if the stress is physical or emotional, our brain still reacts as if we are being chased by a tiger).
This causes our adrenal glands to release cortisol into our bloodstream.
The hormone cortisol triggers a flood of glucose for energy, and it inhibits insulin production so the glucose won't be stored but will be available for immediate use.
This is good for short-term flight or fight responses but not so good if our entire life is high stress and always in top gear because our bodies may constantly pump out cortisol and therefore our bloodstream has an excess of glucose.
What does an excess of glucose and depressed insulin production mean for your body?
Insulin typically helps the cells convert glucose to energy. As your pancreas struggles to keep up with the high demand for insulin, glucose levels in your blood remain high and your cells don't get the sugar they need to perform at their best.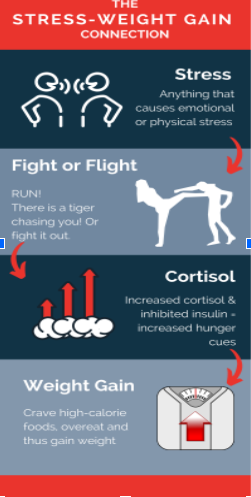 How this leads to weight gain?
As your cells are crying out for energy, your body may signal the brain that you are hungry and need to eat. False hunger signals can lead you to crave high-calorie foods, overeat and thus gain weight. Unused glucose in the blood is eventually stored as body fat.
Ugh! And, this is only one of many negative ways stress can affect our bodies.
So, what do we do about it?
One thing is for sure; we will not eliminate stress all-together. Instead, we can find healthful ways to manage stress. Here are a few we recommend:
Mindfulness and Meditation. Being mindful of when and why you are feeling stressed can help you take steps to handle it with intentionality. Meditating helps your mind release stress to promote feelings of calm, focus, and balance. 
Do things you enjoy. Joy is a great stress buster. Whether it's listening to your favorite playlists, hanging with your besties, reading a good book, or watching a great sporting event, doing something you love can create a sense of calm. 
Get outside. Take a walk or hike, go for a bike ride, play at the beach, or simply sit on your deck and soak up the sun. Fresh air is great for clearing your mind and natural light can help keep your spirits up.
Do Yoga. Yoga focuses on mindful movement and breathing techniques. A regular practice can help release tension and anxiety, allowing you to quiet your mind, stretch your body, and relax into your peace.

Seek guidance from a psychotherapist. Whether you're dealing with a tough time or simply need to talk to someone regularly. I strongly believe therapy is for everyone. If you're struggling to manage your stress, a mental health professional can help.


As for the weight gain, there are several ways for you to incorporate healthy habits into your routine to reduce stress and promote weight loss. Empower's whole fitness philosophy–ThinkFun, Get Fit, Eat Well, Sleep Well – embodies these habits.
ThinkFun. We help you train for a life you love. Let us know what you want to do out in this wide, wild world and we will help you get healthy and fit enough to tackle all your goals.
Get Fit. Working out with an Empower trainer is great for your body and your mind. An effective and fun workout both burns calories (obviously great for weight loss) and it releases endorphins. These cheerful chemicals help elevate your mood. Sign up for a free initial session with an expert Empower trainer HERE.
Eat Well. The key to weight loss is nutrition. If you have a weight loss goal, you MUST change how you are fueling your body. With so many fad diets, eating plans, and modern trends out there it is easy to get confused and overwhelmed when trying to decide what to eat. Our EAT WELL philosophy involves eating a whole-foods, balanced diet and making it a habit to fill half your plate with veggies (and a little fruit), ¼ of your plate with a complex carb and ¼ of your plate with a lean protein at every meal. We also know that simple doesn't always mean easy, that is why we recommend you work with a Registered Dietitian nutritionist who can create a customized nutrition plan just for you. Sign up for a Getting Started Call with our RD Nutritionist HERE.
Sleep Well. Lack of sleep can lead to unwanted weight gain. When you aren't getting sufficient sleep, your hunger hormones can get out of whack. That can lead to overeating. Sleep is almost like magic. Your body uses this rest to reset your system and prepare you for another day. If you are not consistently getting 7 uninterrupted hours of sleep every night, slowly tweak your bedtime routine until you reach this important sleep threshold.

If you struggle with managing stress or with maintaining a healthy weight – we are here to help!