Your Journey Together
Starts Here!
Guess what? An insider from the Empower Personalized Fitness community has invited you to join them on a fitness journey.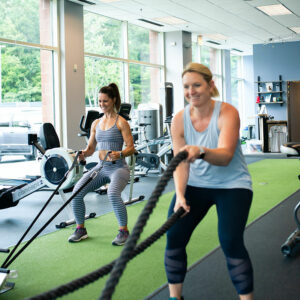 "Go on – I'm flattered and also wondering why me at the same time?"
Because you are LOVED, your friend thinks you're special, and during these crazy times of pandemic, we can all use some accountability, motivation and community.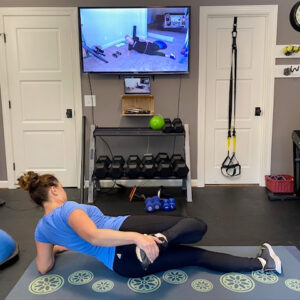 "True - How does it work?"
Since the pandemic started in mid-March 2021 the wellness team at Empower Personalized Fitness has serviced over 15,000 client appointments. Early on almost 90% of our sessions were being conducted on a virtual platform (which we still offer), but now we are back in our beautiful, small, safe studio as well!
Are you ready to start an exercise program?
What if you could have a completely personalized program that you can do either right at home or in a comfort of a boutique fitness studio? This means you don't waste any time wondering what to do, what exercises are best for your body and how to safely and effectively design your workouts.
Our clients are absolutely loving the flexibility of being able to train either virtually from home or and in person at the studio. And, your friend who sent you this invitation thinks you will love it too.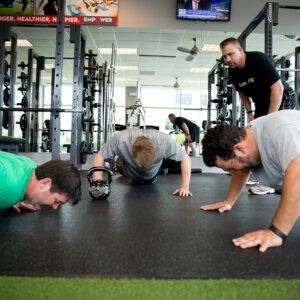 "In fact, I do! What's next?"
We're glad you asked! Simply just click the "Get Started" button on this page and schedule a complimentary consultation with the Empower team. We will go over your health history, discuss your goals, learn more about your orthopedic concerns and begin to design a program personalized to you.
Then, we will invite you to join the Empower community – either with your friend at their workout time or at a time that works specifically for you.
It's the ultimate in convenience and efficiency.
Times are weird and it's probably going to be a while before you're completely comfortable going into a gym setting.  And if you have a pile of various fitness accessories sitting around your house what's the likelihood that you're going to use them on your own? Let Empower partner with you to offer the safest and most effective workout around.
At Empower, many clients come to us frustrated because they are overwhelmed and...
Not reaching their fitness goals
Lack time to "fit" fitness in
Confused about the BEST workout plan for THEM
Constantly nursing injuries
Are at an increased risk of chronic health conditions
Tired of trying to figure it all out on their own
Need someone to hold them accountable and keep them motivated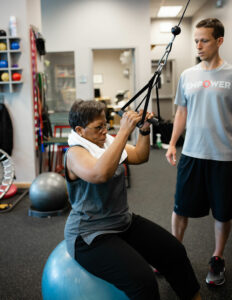 At Empower You Are Guaranteed
A custom personalized fitness plan designed for YOU. Your GOALS, Your HEALTH, Your LIFE.
Effective and efficient workouts that fit your busy lifestyle.
A dedicated fitness expert to keep you motivated and progressing as your fitness journey evolves.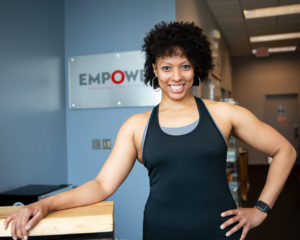 Your Path to the Healthiest You
Sign up for a free initial session to discuss your personal health, fitness and goals.
Join your friend for a in-studio or virtual semi-private training session or schedule your own.
Get started on a path toward a stronger, healthier, happier you!
Here are a few words from clients just like you.
When Empower Personalized Fitness closed due to the COVID-19 epidemic I was crushed because it is my safe place for both mental and physical well-being. Therefore when I learned that we could continue to do workouts—in my case with Chuck 3 times a week and Nestor once a week —I was thrilled.
And now after doing this for 2 weeks it is clear that I am accomplishing all I could have hoped for and more.  I can do cardiac on my recumbent bicycle just as I start at Empower and then using Zoom can be guided through arduous (which I want) workouts 4 days a week.  We started with my weights and bands that I have here but when I bought a TRX on Amazon which is exactly like the ones at Empower—though you can use something that anchors it behind a closed door and avoid the wall attachment —the workouts went to a new level.   I will, as all of us will, be delighted when this epidemic is over and we can return "home" so to speak—-but until then I will remain mentally and physically fit by these Zoom workouts.
I just wanted to say thank you for continuing to deliver amazing personal training – especially in these challenging times.  With everything else going on, I can't tell you how much I look forward to my FaceTime sessions with Blaine.  I'm really impressed that he can put together a great workout using whatever I've got at home.  It's great to get the exercise and also great to spend some time with a friendly face.  I'm thankful for these sessions, which break up the monotony of stay-at-home and help manage the extra stress of work and news.
Stay strong – and safe!
Absolutely solid people, spirit and a tremendous help with setting/working to personal goals for anybody. You don't have to be a gifted young athlete; you can just be yourself. When COVID set in, switching to Zoom sessions was no problem. I'm no great athlete but have the lofty goals (for me) of just wanting to walk/stand without pain since severe back and other problems set in.
I deal with Chuck and he's great, always interested, encouraging, on-time and he's helped remarkably at increasing my flexibility, mobility and regaining strength while working along with my physical therapist. "You need a personal trainer", my doctor said. I found Chuck, the folks at Empower …. and I'm so glad. The whole concept of personal trainer was foreign to me, but not anymore. Empower and its people are a class act.
Get Started with a Free Initial Session!