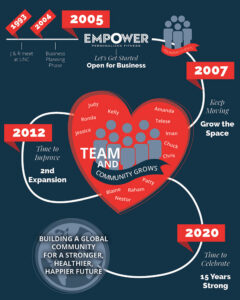 Let's Celebrate! You are Invited to our 15 Year Anniversary Party.
Now it's time to celebrate – celebrate your journey, celebrate being a part of this community and celebrate 15 years as small fitness business.
When: November 1, 2:00 – 4:00 pm
What: A socially distanced drive-by "party"
Where: Outside the Empower Studio
Who: YOU – current, past, and future clients and team members
You may be thinking – wait, what? A party in 2020. Yeah – us too because well 2020. We do honor the fact that we are in the midst of a global pandemic, and while we are OVER the pandemic the pandemic is not yet over. We are planning a socially distant and safe celebration of sorts, and because the information is ever-changing we will adapt our plans accordingly depending on local guidelines and safety protocols.
At a minimum, we invite you to plan to drive by (stay in your car), wave hello to the team, pick up a small gift from us and benefit from seeing familiar faces from your fitness "home.' It will be as festive as a 2020 party can be!
Can You Believe How Far We
(Yes, That Means You) Have Come
Wow – what a strange trip it's been. Back in 1993 as college suitemates when we used to procrastinate studying by daydreaming about one day owning and operating a wellness center could we have imagined where we are today – a thriving fitness community endeavoring together to lead stronger, healthier, happier lives.
What started with just the two of us has grown beyond even our wildest dreams – not because of us but because of YOU our clients, friends, family, loyal team members, and the community at large.
YOU are what makes Empower a special place.
And YOU are why we are here still serving, still thriving, still inspiring others on their lifelong journey of health and wellness.
You are why we even get to take this journey – the journey of health and fitness and the journey of small business ownership.
For that, we are eternally grateful!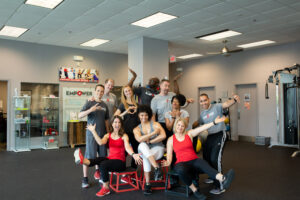 Captured Moments Throughout the Years